EVERY WEDNESDAY IN SEPTEMBER 2023 YOUR TOURIST OFFICE INVITES YOU TO EXPERIENCE PORTIVECHJU IN MUSICA !
Musical encounters to enjoy, island artists to (re)discover... Come and share one of our favourites, live, in the citadel of Portivechju.
Join us on Place de la République... dà campà ci tutti insembu! Sempri incù piaceri...
Portivechju Turisimu : 04 95 70 09 58
Free concerts offered by your tourist office.
Place de la république at 9pm.
SEMI MARATHON
de Portivechju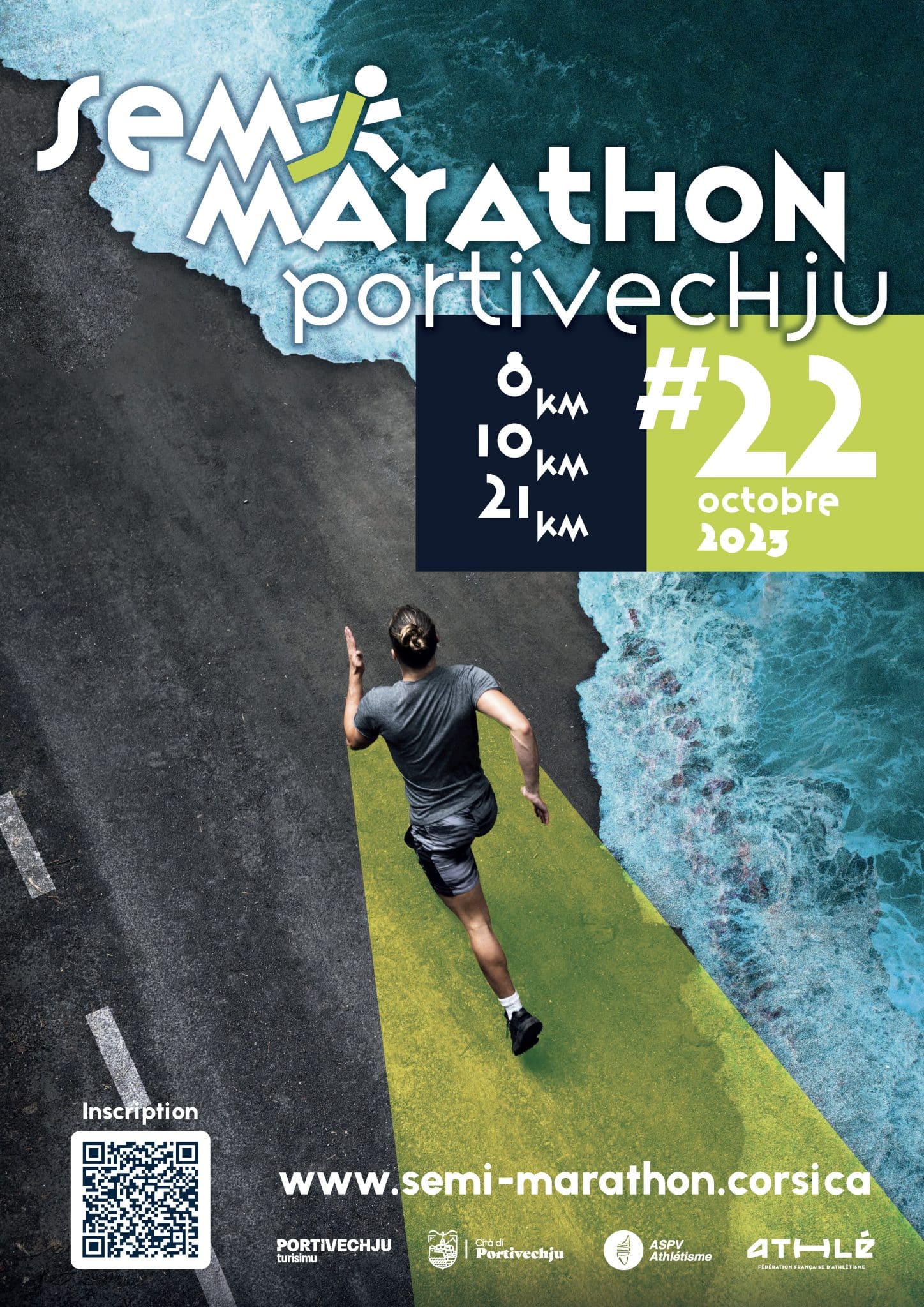 Organisé par l'ASPV Athlétisme et la Ville de Portivechju, le semi-marathon de Portivechju est de retour le 22 Octobre prochain pour le plus grand plaisir des amoureux du macadam.
Les concurrents du semi-marathon prendront le départ à 10 heures du port de commerce de Portivechju avant de rejoindre, 21 kilomètres plus loin, la ligne d'arrivée qui sera implantée à Santa-Ghjulia.
L'horaire de départ pour le 10 kilomètres et la marche, qui s'élanceront de Palumbaghja, sera identique toute comme la ligne d'arrivée.
Aucun changement au niveau du parcours aussi bien pour le semi, le 10 kilomètres et la marche avec le site de Palumbaghja comme terrain de jeu et la grande bleue en toile de fond.
Dimanche 22 octobre 2023
10:00
Exhibition
IN PORTIVECHJU!
PORTIVECHJU, TOWN AND TERRITORY, IN PICTURES AND WORDS.
The Portivechju exhibition immerses visitors in the history, lifestyle, heritage and traditions of our town and territory. Through images and words, visitors can discover the exceptional richness of its natural and cultural heritage.
An exhibition to discover in the Bastion de France.
A project born of collaboration between the Cultural Action and Heritage departments of the Portivechju Intercommunal Tourist Office.
Une visite guidée de l'expo In Portivechju vous est proposée tous les mercredis à 10:00 (visite gratuite sur inscription auprès de la médiathèque de Portivechju).
Du 01 juillet au 31 octobre, le lundi, mardi, mercredi, jeudi, vendredi et samedi de 10h à 17h. Le dimanche de 10h à 16h.
Access to the panoramic terrace of the Bastion de France: €2 per person, free for under-12s and Animu members.